Animated Versions of Vampire Hunter
Edit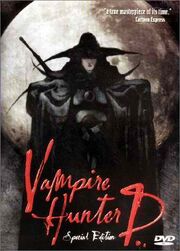 To date (as of January 2011) there are only 2 movies based on the novels of Vampire Hunter D.
1985 Vampire Hunter D
2000 Vampire Hunter D: Bloodlust
According to the January 2010 issue of Rue Morgue, Hideyuki Kikuchi stated that a Vampire Hunter D animated tv series, Live-action movie, and third movie were in the planning stages in Japan. Working on the live-action film is Hideyuki Kikuchi and one of the producer's for Capcom's Resident Evil video game.




Ad blocker interference detected!
Wikia is a free-to-use site that makes money from advertising. We have a modified experience for viewers using ad blockers

Wikia is not accessible if you've made further modifications. Remove the custom ad blocker rule(s) and the page will load as expected.