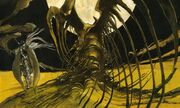 Armageddon is a short story.  Originally written in December 1984 for Yoshitaka Amano's art book Maten and published in Japanese under the title "D---Harumagedon" It was the first non-novel-length work in Vampire Hunter D universe to see official publication. The only short preceding this was one published in fanzine. This visually strong short stroy describes a father-son showtown between D and the Sacred Ancestor .
Has since been republisized in the Reader's Guide.
Ad blocker interference detected!
Wikia is a free-to-use site that makes money from advertising. We have a modified experience for viewers using ad blockers

Wikia is not accessible if you've made further modifications. Remove the custom ad blocker rule(s) and the page will load as expected.