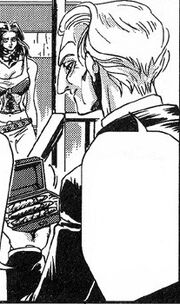 Apparently the Capital does a poor job of distributing these. They're yellow. Three years before the events of Dark Nocturne the linguist Serna Nichol is sharing one with a scientist when they witness Dynus emerging from the mountain stronghold that has been nurturing him.  
In Vampire Hunter D, Dr. Ferringo produced a cigar from one of his inner pockets and put it in his mouth. It wasn't a cheap one like the local knock-off artists hand rolled with eighty percent garbage. This was a high-class cigar in a cellophane wrapper that bore the stamp of the Capital's Tobacco Monopoly. 
Ad blocker interference detected!
Wikia is a free-to-use site that makes money from advertising. We have a modified experience for viewers using ad blockers

Wikia is not accessible if you've made further modifications. Remove the custom ad blocker rule(s) and the page will load as expected.