As close as possible to duplicating him, the
Special Class-A Computer
in the 
Nobility Airfield
out of feelings it has for him is a formidable being. The wind he summons has the power to decay everything in its wake. D's presence causes this copy to awaken.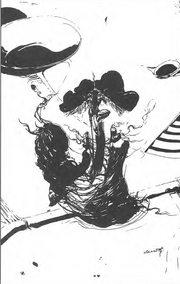 Appearance
Edit
Made of synthetic proteins and reconstructed muscle, being a bit larger and a head taller than D he has a wild jungle of hair and wears a black cape.
Ad blocker interference detected!
Wikia is a free-to-use site that makes money from advertising. We have a modified experience for viewers using ad blockers

Wikia is not accessible if you've made further modifications. Remove the custom ad blocker rule(s) and the page will load as expected.