Dumper Griswell
General information
Also known as

Dumper

Status
Appearance

Height:Unknown

Weight:Unknown

Build:Athletic

Clothes:Orange T-Shirt
Baggy Jeans

Species
Age

Over 20

Origin
Occupation(s)

Unknown

Family

Unknown

Powers and Abilities
First Appearance
Creator
Hideyuki Kikuchi
A resident of the
Mobile Town
.
Appearance
Edit
He wears a light orange T-shirt and a pair of baggy jeans.
Biography
Edit
Sheriff Bailey Hutton abducted Griswell on orders from Mayor Ming. Later, he was turned into an Imitation vampire, but he escapes and runs wild in town. He may possilbly been the one who attacked Mayor Ming's daughter Laura. He is later possessed by Pluto and cut down by D.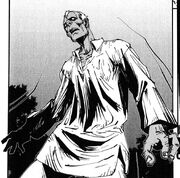 Ad blocker interference detected!
Wikia is a free-to-use site that makes money from advertising. We have a modified experience for viewers using ad blockers

Wikia is not accessible if you've made further modifications. Remove the custom ad blocker rule(s) and the page will load as expected.