Franz Knight
General information
Also known as

Lori's father

Status

Deceased

Gender

Male

Species
Origin
Occupation(s)
Former Employer(s)
Family

Mrs. Knight (Wife)
Lori Knight (Daughter)

Powers and Abilities
First Appearance
Creator
Hideyuki Kikuchi
"I've done it. I figured it out! This will change the world...!"
―Franz Knight
Franz Knight is Lori Knight's late father, a man known for the many ingenious discoveries he and his wife made in the Mobile Town that saved the community repeatedly. When the goals of the Knights' research were at odds with those of Mayor Ming, the were jailed, but they escaped from the mobile town and fled to the Frontier. Two months later, they were camping out due to a cracked heat exchanger in their Motor Home's atomic reactor when lesser dragons attacked the family. Lori alone survives the incident. Before this could happen though they gave birth to a New Breed of Humanity.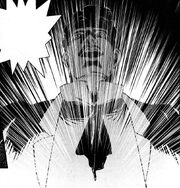 Ad blocker interference detected!
Wikia is a free-to-use site that makes money from advertising. We have a modified experience for viewers using ad blockers

Wikia is not accessible if you've made further modifications. Remove the custom ad blocker rule(s) and the page will load as expected.