Gilligan
General information
Status

Deceased

Gender

Male

Appearance

Height:Unknown(Over 6 Feet?)

Weight:Over 700 pounds

Eyes:Thin thread

Hair:Sparse, parted

Build:Slug,Extreme Obesity

Species
Age

80s?

Origin

Unknown

Occupation(s)
Family

Unknown

Powers and Abilities
First Appearance
Creator
Hideyuki Kikuchi
Gilligan is the person who runs everything  in Cronenberg.  He makes use of his enforcer unit the Gilligan's Five to acquire a bead. He is also a Blood Seeker. Makes his appearance in Mysterious Journey to the North Sea.
Appearance
Edit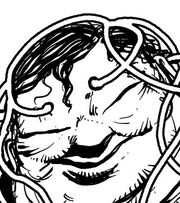 He looks like a seven-hundred-pound slug. Unable to move under his own power, his body is supported by a cage that holds him a good three feet off the ground. The cage is made of zeramium steel and Gilligan can't even move his limbs with out help of this cage and its motors. He's basically the same class as Jabba the Hut and Baron Harkonnen. His eyes are thin as a thread, and his nostrils and mouth spread wide to either side. In fact, he's so hideously misshapen, he looks like a human that's been given a frog's head. His face looks pushed in, and his pitifully sparse hair is parted to one side. With no neck to speak of, his head seems to be melded right into his torso. Hi voice is shrill and cloying.
Biography

Edit
In order  to gain the bead Wu-Lin brings to his town he sends five Frontier enforcers to the village of Florence. In his giant robotic crab he battles D twice in the village of Florence, an both times he manages to escape with his life. However, he fares about as well in his search for the bead as his namesake does in attempts to get off that desert isle.
The private, doomed workshop on the third floor of Gilligan's main house. There's so much engineering equipment and material like plastic and steel that there isn't even room to walk around. Apparently this is where the dying Gilligan gets into his giant robotic crab and heads off to Florence.
A bar owned by Gilligan. Located in Cronenberg.
Powers and Abilities
Edit
Skilled Technician
Equipment
Edit
Cage
Giant Robotic Crab - Built by Gilligan, it's a giant, black, saucer-shaped robot. Built on the third floor of Gilligan's Factory of his home. It has whips that lash out at least thirty of them that move  faster than the speed of sound. Along with other weapons.
Ad blocker interference detected!
Wikia is a free-to-use site that makes money from advertising. We have a modified experience for viewers using ad blockers

Wikia is not accessible if you've made further modifications. Remove the custom ad blocker rule(s) and the page will load as expected.