Golem the Tortureless
General information
Status
Gender

Male

Species
Age

?

Origin

Unknown

Occupation(s)
Former Employer(s)
First Appearance
Creator
Hideyuki Kikuchi
Golem the Tortureless (拷零無, Gōremu) is a Mutant, and also a member of the Fiend Corps. Golem is an extremely tall and muscular brown man, with what seems muscles of bronze.
He makes his appearance in Vampire Hunter D.
Powers and Abilities
Edit
Golem has control over the density of his musculature on surface. It can withhold any blow submitted to his muscles.
Paraphernalia
Edit
Golem makes use of a Machete.
Golem is turned into an actual gigantic giant, he does seem to lose his muscles of bronze ability in this adaption.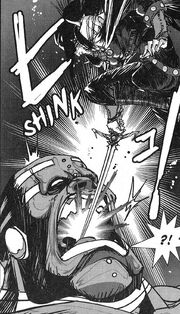 He also swaps his machete for bombs as his weapon of choice.
Ad blocker interference detected!
Wikia is a free-to-use site that makes money from advertising. We have a modified experience for viewers using ad blockers

Wikia is not accessible if you've made further modifications. Remove the custom ad blocker rule(s) and the page will load as expected.