"Once more at a loss for words, the Black Knight remained silent. Even as an illusion projected in the daylight, the lovely princess remained an absolute, godlike being as far as he was concerned."
―Narrator
The
Rose Princess
can project her body into an image of herself from another location. It is a mass of electrons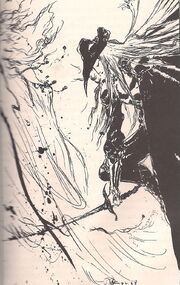 that form an image she desires to take on. She can even mask many of her features, and change the details of how the image appears at will. It seems to be a mystical talent more than a technological one, but it may be a combination of the two more or less.
Ad blocker interference detected!
Wikia is a free-to-use site that makes money from advertising. We have a modified experience for viewers using ad blockers

Wikia is not accessible if you've made further modifications. Remove the custom ad blocker rule(s) and the page will load as expected.