Maggie
General information
Also known as

The Almighty

Status

Alive

Gender

Female

Appearance

Hair:Brown

Eyes:Round

Clothes:?

Build:Keg of Beer

Species
Age

40-50

Origin

Unknown Village

Occupation(s)
Family

?

First Appearance
Creator
Hideyuki Kikuchi
A middle-aged woman who comes twice a moth to the
Village where Sybille Schmitz sleeps
. Also known as
Maggie the Almighty
. Makes her appearance in
Stuff of Dreams
Appearance
Edit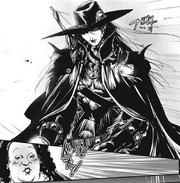 She's built like a keg of beer, and her upper arms are larger than some women's wrists. The round eyes and mouth set in her big dinner roll of a face go wide when she's introduced to
D
.
Biography
Edit
She's not a resident of the village, and is not part of the dream world Sybille Schmitz creates, and is a real person from the start. She has heard about the Sea when she was a child but has never seen it. She has this in common with Lance(Pilgrimage of the Sacred and Profane).
After D wakes from her dream world, she's one of the few people to make him smile.
The song she sings when D and Sheriff Krutz encounter her:
Go take a peek if tomorrow's not along, Those old Nobles just might've been wrong, A world full of twisted creatures and such, Don't seem to bother anyone much...
Ad blocker interference detected!
Wikia is a free-to-use site that makes money from advertising. We have a modified experience for viewers using ad blockers

Wikia is not accessible if you've made further modifications. Remove the custom ad blocker rule(s) and the page will load as expected.