Mrs. Marcus (also know as Leila's mother) is a late mother of the members of the Marcus Clan.
Personality
Edit
Although doesn't know much about her, it is seen that she was loved by her daughter.
Biography
Edit
Vampire Hunter D Vol. 3: Demon DeathchaseEdit
When Leila has been injured by the shrapnel and could die from the injury if not taken care of. As she begins to collapse from the wound D takes note and assesses the wound and goes back to his saddle bag to retrieve his First Aid Kit. When D mends her wounds with the Caltrops, she is screaming for her mother along with having flashbacks to the time her brothers raped her.
Vampire Hunter D Vol. 3Edit
She is mentioned in the her daughter's flashbacks.
Vampire Hunter D: BloodlustEdit
In the movie, she's not a blood relative with Marcus brothers, but only the mother of Leila. When her daughter was young, Leila's mother was kidnapped by vampires, and in a fit of rage, her husband left to attempt rescue her. After several days, Leila hears that her father died, unsuccessful in his mission. But her mother returned changed. In front of her eyes, Leila's mother was stoned to death by the town's people. Leila swore in their grave, that she would become a Vampire Hunter to prevent any other losses from occurring.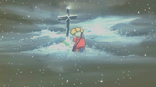 After a long time being alone, Leila soon came to be part of the group known as the Marcus Brothers and although she isn't related by blood to the Marcus Brothers, they consider her as their little sister, Leila joined them to avenge her parents.
Ad blocker interference detected!
Wikia is a free-to-use site that makes money from advertising. We have a modified experience for viewers using ad blockers

Wikia is not accessible if you've made further modifications. Remove the custom ad blocker rule(s) and the page will load as expected.