Nell
General information
Status

Deceased

Gender

Female

Species
Origin
Occupation(s)
Employer(s)
Family

Ben (Boyfriend)

First Appearance
Creator
Hideyuki Kikuchi
A resident of the Mobile Town who works as a maid in Mayor Ming's house. Her boyfriend is Ben, who works at the cleaners. She has a secret tryst planned with him, but Pluto possesses Ben to jump over to Nell's body so he can search the mayor's house. While she's down checking out the cellar with Pluto possessing her she gets her neck slashed wide open killing her. Pluto survives though.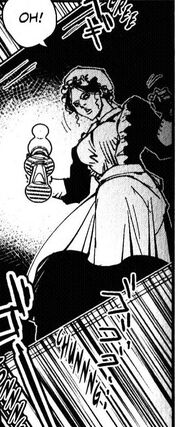 Ad blocker interference detected!
Wikia is a free-to-use site that makes money from advertising. We have a modified experience for viewers using ad blockers

Wikia is not accessible if you've made further modifications. Remove the custom ad blocker rule(s) and the page will load as expected.