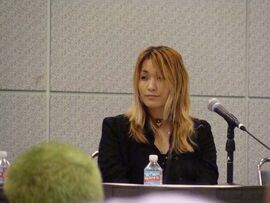 Saiko Takaki
is the artist currently adapting
Hideyuki Kikuchi
's original novels into a
manga series
.
Biography
Edit
Saiko Takaki is a professional graphic designer, illustrator and manga artist for a close decade and she has worked on numerous projects for the manga and game industries in Japan. She is a very close friend of Hideyuki Kikuchi, creator of Vampire Hunter D, and because of this, she was hand-picked by him and is commissioned by DMP to undertake the daunting task of adapting his famous novel into a manga and she has proven to be one of Japan's up-and coming star manga horror artist.
Ad blocker interference detected!
Wikia is a free-to-use site that makes money from advertising. We have a modified experience for viewers using ad blockers

Wikia is not accessible if you've made further modifications. Remove the custom ad blocker rule(s) and the page will load as expected.