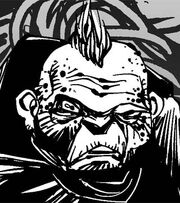 Shin
General information
Also known as

The manipulator

Status

Deceased

Appearance

Height:Unknown(Under 5 Feet?)

Eyes:Unknown

Hair:Bald

Build:Advance Age, puny

Species
Age

90s?

Origin

Unknown

Occupation(s)
Family

Unknown

Powers and Abilities

Highly skilled battle tactics'

First Appearance
Creator
Hideyuki Kikuchi
Shin the Manipulator
is one of the enforcers hired by
Gilligan
. Shin is an old wrinkled puppetmaster, but on his first appearance he mostly used a little boy puppet as his form of communication with other people.
He makes his appearance in Mysterious Journey to the North Sea.
Appearance
Edit
An old man, he's only the size of a boy of fourteen or fifteen, but his face is dotted with age spots that look like the maws of tiny caverns, and when he grins, he exposes a row of yellowed teeth. He wears a red cap.
Powers and Abilities
Edit
Shin is an puppetmaster with extraordinary skill which is bordering sorcery. Puppets under his influence really seem to have been given life itself and are almost impossible to discern from real living beings. Without his command the puppets change back to their shewn faces, ragged clothes, wooden frames and even their steel swords seem to change back into a strip of wood. Human beings are not the only living creatures he can put to life, Shin also has no trouble transforming a rubber spider into a real poisonous spider.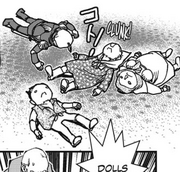 Paraphernalia
Edit
The real Shin uses a fire dragon rifle .
Ad blocker interference detected!
Wikia is a free-to-use site that makes money from advertising. We have a modified experience for viewers using ad blockers

Wikia is not accessible if you've made further modifications. Remove the custom ad blocker rule(s) and the page will load as expected.